---
As readers can probably imagine, it takes a lot to set off a genuine public furor in China, especially when the subject is critical of the government, or challenges its authority in any way.
(Article by Tyler Durden republished from ZeroHedge.com)
Yet a video depicting nurses in Gansu Province having their hair shaved off has accomplished just that, while raising serious questions about Beijing's ability to contain the public frustration over its handling of the coronavirus outbreak that spawned COVID 2019.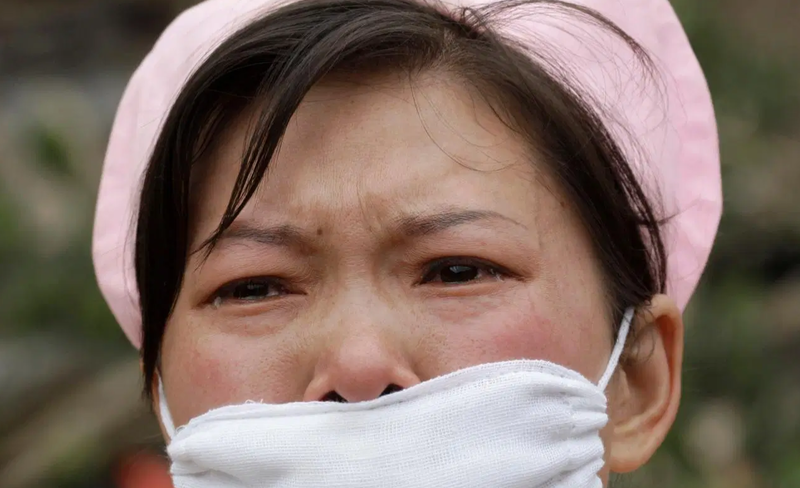 In the video report, which was posted by the newspaper "Gansu Daily" – a state-run paper in Gansu to better accommodate the full-body medical gear that they will be wearing in Hubei, where they were being sent by the government.
Viewers can watch the original video here.
Many more videos of nurses cutting their hair can be found on YouTube. And what appears to be another propaganda film by the SCMP can be viewed below:
But for whatever reason, that original video triggered a severe backlash that prompted China's censors to spring into action. They took forced the Gansu paper to take the video down from its social media pages and website. Even in the US, it's difficult to find online.
According to Quartz, the video generated comments like these, translated from Weibo (like China's Twitter) by Quartz:
"In the video, the people who shaved the women's heads grabbed their ponytails roughly and just started shaving their hair using electronic clippers. Are you treating them as humans or some animals waiting to be shaved? I am so angry that my mind's gone blank," said a user (link in Chinese) on Weibo yesterday (Feb. 17), when the video started trending on the network.

"If you didn't tell me they were medical workers, I would have thought they were some evil criminals who were going through this serious humiliation…Even their tears are used by the authorities to try to touch the audience, making them the illustration of the spirit of collectivism," wrote Chen Mashu, an author for "Epoch Story," an account on messaging app WeChat that publishes analyses and first-person accounts of social affairs.
China appears to be running into one of the unavoidable conflicts that arises from an authoritarian system out of step with a liberal world: In the digital age, you can't possibly keep out all of the information from outside (unless you're North Korea, and even they can't hide all of it).
What's worse is this latest incident appears to be a propaganda stunt gone awry.
But China doesn't want to emulate North Korea's insane level of social controls. The North Korean people are without a doubt the most heavily controlled on the planet in terms of the level of government involvement in their lives. It's a libertarian's nightmare.
But in China, the people have a better idea of how Beijing's actions to combat the virus have been perceived, and – what's worse – that there are others across China who feel the same way about the government censorship. That is, that it contributed to the government's hesitation to publicly address the outbreak.
As one professor says, China has "entered a different time."
"China has entered a different time," said Gu Su, a professor of philosophy and law at Nanjing University. "Covering positive stories while withholding the cruel facts won't work as people can still access information from elsewhere. The propaganda department needs to reflect upon its approach."
During the outpouring of rage and grief that followed the death of Dr. Li Wenliang, Beijing initially cracked down, before backing off, understanding that the people needed to grieve, before slyly redirecting their anger toward local officials, who ultimately paid the political price for Li's death.
"Letting people mourn about the doctor's death serves as a pressure valve to let off steam," said Lynette Ong, an associate professor in political science at the University of Toronto where she studies social control in China. "Still, the most sensitive posts asking for freedom of speech were censored."
After the scapegoating of local officials, President Xi allegedly told the Politburo Standing Committee to get the word out to the state-controlled press to promote "touching stories from the front line of the virus fight." This command unleashed a wave of sappy human-interest stories in government-controlled tabloids like the Global Times.
Along with reports claiming the virus is 'under control'.
And directing hostility and anger toward the US.
Still, optimistic tales of triumph over the outbreak contrast with the lived experience of roughly half the country. Some 760 million citizens are facing some form of quarantine.
Doctors in Wuhan have repeatedly warned about the atrocious working conditions, as many continue to work despite having contracted the virus. Wuhan has more than 1,1000 medical staff, more than half of the infected hospital workers annually.
Beijing has also staged press events with recovered patients and others to tell foreign journalists about how the virus actually "wasn't that scary" and that they received the best care available (which, of course, isn't saying much).
"The disease is not that scary," said one patient in Beijing who gave her surname as Li. "If you are infected, you must believe in the country, the hospital, the doctor. They will definitely cure you."
The idea is to keep readers from thinking about broader issues.
"By allowing some criticism and focusing on human stories, they are keeping people from discussing more systemic issues," Tsang said. "Given the scale of the challenge, public sentiment could be much, much worse."
According to Bloomberg, these staged events are meant to prevent journalists from asking questions like 'why are your new hospitals in Wuhan not yet fully operational?' and 'so when are these lockdowns going to end, anyway?' and 'what about all these supply shortages?'
The video of the nurses is hardly the only breakout social media phenomenon to spark outrage on the mainland since the outbreak began. And we suspect there will be more.
Read more at: ZeroHedge.com